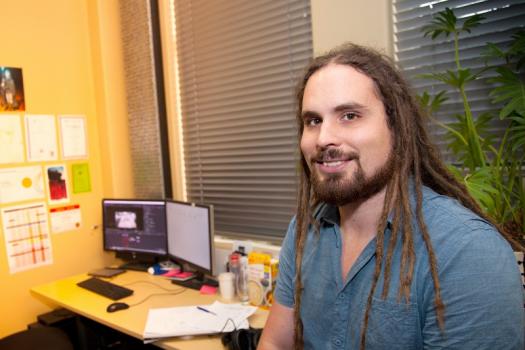 As a 3D generalist, New Zealand native Eli Tucker has worked in various roles within the industry for studios large and small. Tasked with everything from character and layout to compositing, rigging, and producing augmented reality for clients, his diverse work experiences eventually led him to his most important role to date: teaching the next generation of artists at Yoobee School of Design.
At Yoobee, Tucker serves as Assistant Head of Faculty for Multimedia and oversees courses and faculty in 3D Production, Animation, and Game Art, and more. The school has cultivated highly motivated and desirable artists in the VFX and games industries for two decades, offering an assortment of certificates, diplomas and degrees. By embracing new technologies and working closely with New Zealand's internationally-acclaimed digital arts studios, students benefit from instructors like Tucker whose firsthand knowledge and enthusiasm of their craft is unparalleled.
ACR:  Eli, before teaching and becoming the Assistant Head of Faculty for Multimedia at Yoobee, you accrued some nice credits to your name including work on Avatar and Guardians. What were your roles on those two films?
Eli Tucker: I worked on Avatar at Weta Digital in 2009, mostly in the Layout department doing things like placing trees on the floating mountains. I also worked in the Creatures Department dealing with hair and cloth dynamic simulations. In 2010, I moved to Sydney to work on Legend of the Guardians: The Owls of Ga'Hoole at Animal Logic, dealing mostly with wind and feather dynamic simulations.
ACR: What drew you to teaching amidst your hectic industry schedule?
ET:  I really enjoyed working on the films but it was difficult living so far away from my partner; I moved back to New Zealand and after a short time working freelance and at a few smaller studios I found my way into teaching. In 2011, I began at Yoobee and I immediately found I had a passion for teaching students (how) to bring their imaginations to life. Since then, I've found a real sense of satisfaction from seeing the success of my students- especially seeing their names in the credits for feature films.
ACR:  Do Yoobee students fit a particular mold or are they quite diverse in their educational and professional experiences?
ET:  We get a huge range of different students, but the one thing they have in common is that rather than fitting into any specific mold they're all unique! A lot of our students come from other professions and bring diverse life experience. Most of them are pretty quirky and I overhear a lot of conversations about Anime, D&D, and Overwatch on a daily basis. Yoobee is a really warm, friendly environment where people aren't afraid to be themselves.
ACR: What attributes and skillsets do you and your industry colleagues look for when hiring a new team member, and how do you go about developing those skills in your students?
ET: I would say It's 33% Passion, 33% Skill, and 34% about not being a d**k. Technical skills can be taught, art can be practiced, passion is contagious. Soft skills are important, but as I mentioned, most of us are pretty quirky. I fondly remember the impromptu nerf-gun battles that would take place at Animal Logic. I think you've got to be able to have fun with it and not take yourself too seriously or rain on anyone else's parade. You also need to know when to be professional, of course. In many situations, that is extremely important - but for the most part it's a pretty awesome uplifting sort of a culture both here at Yoobee and in my experience in the industry.
ACR:  Talking shop, what software do your students typically work with?
ET:  We use the same software as the industry and regularly meet with companies like Weta to chat and make sure we're on the same page. Right now, in the Advanced 3D Graphics Programme we mainly use Maya as the glue that holds all of our assets together. With Python scripting, Maya is fully customizable which is great for our simulated industry pipeline.
We use Zbrush for Sculpting, Substance Painter / Designer and Mari for Texturing, Houdini for VFX, Vray, Renderman or Arnold for Rendering, and Nuke for Compositing and Live-Action Integration. Our Game Developers use much of the same software for Game Art asset creation and work mainly in Unity, but sometimes in Unreal Development Kit depending on their needs.
ACR: How do you approach teaching each new tool of the trade?
ET:  Our process starts with learning the fundamentals, whether that's how to use a new piece of software or a basic workflow to create an asset. I teach in-person and also record video tutorials for all the tasks from start to finish- students are invited to engage and ask questions throughout the lesson. From here, that base knowledge is challenged by applying it to a new exercise with a slight twist from the original lesson and finally, work is reviewed with positive, constructive feedback given.
ACR:  Are there projects that your students are tasked with completing that you particularly enjoy from a teaching perspective?
ET:  This year, I'm really excited about a few. The first would be Environmental Realism (project) where students must recreate a photo as realistically as possible in 3D. Last year it was awesome to hold the photos and final CG renders side-by-side and see if people could tell which was which. I was pretty stoked with how often they guessed wrong!
The second would be Team Production where the class works together to create a short animated film or VFX piece, simulating a real-world industry 3D production workflow from concept through to finish. And finally, the Showreel where students create the ultimate portfolio piece designed around their own dream job.
ACR:  You remain a working professional and even co-founded a 3D production and augmented reality company. Tell us a little about your work outside of Yoobee's walls.
ET:  Teaching requires you know what you're talking about, so I became the ultimate all-rounder and have really enjoyed developing my own skills by experimenting with new technologies. There's always time to teach things you're passionate about, and all of my side-projects only lend credence to the course-content at Yoobee and allow me to teach the freshest industry workflows.
In 2015, I was VFX Supervisor for the Automata webseries and in order to complete the workload (placing CG robot heads onto live actors) I founded Crabmech FX and contracted fellow tutors and several Yoobee graduates. Then in 2017, I joined the Mahuki Accelerator Programme through Te Papa Tongarewa - Museum of New Zealand; along with three students and a graduate from Yoobee, I co-founded ScimitAR - an Augmented Reality and Game Development company that has gone on to complete multiple projects for the Wellington Council.
ACR:  On the subject, let's talk AR. What's new or impending in the augmented reality arena that has you excited for what the future may bring?
ET:  A lot of people think of Pokemon GO when it comes to Augmented Reality and it's definitely done a lot for the games industry in terms of showing the viability of AR as a platform, but I also know it can be so much more. I'm really excited to see Greg Broadmore and the team at Weta Gameshop working with Magic Leap to push the boundaries of Mixed Reality. I can't wait to see where their new technology takes us… and that we finally get a Dr. Grordbort game!
My team at ScimitAR has been working on several Augmented Reality apps for the Wellington Council including an AR Scavenger hunt through the libraries, and another soon to come in the Botanical Gardens. It's amazing showing people augmented reality for the first time and seeing them interact with digital objects superimposed into the real world. It's the closest thing we've got to real magic.
ACR: Given everything you do, I'm curious what a day-in-the-life of Eli Tucker is like!
ET:  It's a bit of a balancing act, for sure! Confucius said "Choose a job you love, and you will never have to work a day in your life." And who doesn't dream of creating awesome stuff out of pure imagination and techno-magic!? As Assistant Head of Faculty, I am all about helping the other faculty with their own professional development goals while also assisting in the development of curriculum to ensure it is current and relevant.
A day in my life starts with an hour commute on the train which conveniently arrives directly at our new campus. At 10:00am I squeeze in a quick gym session with Phil Kurzmann the Animation Tutor - because it's important to stay healthy. Around 11:00 am, I fire off some emails to keep everything running smoothly in the office followed by some up-skilling to continually learn new software - yesterday it was Marvelous Designer which is fantastic for 3D clothing/costume design. I then do a few hours of tutoring our Level 7 Advanced 3D Graphics Course, teaching awesome stuff like Zbrush character sculpting. In the afternoon I hold a short meeting with my ScimitAR co-founders to catch up on the progress of the cool Augmented Reality projects we're working on. Finally, it's back on the train again - winding down with Python scripting while listening to some nice soothing Melodic Death Metal.
ACR:  You mentioned Yoobee's new Wellington campus- 1 of its 3 campuses in NZ. It's exciting to have new digs, for sure… what's it like?
ET:  We're right on floor 2 of the Wellington Train Station now so it's super convenient. Not only do I step off the train practically at my office, but all of the buses stop right next door too, so it couldn't be more convenient for students. The building is an old heritage building and so it's full of really awesome texture reference and industrial looking inspiration. It's been decked out really nicely and has that great mix of old-meets-modern. Being able to make awful puns is a huge bonus too, for example "Our Training is off the rails!" … sorry!
ACR:  Fantastic! New Zealand, of course, is home to a plethora of phenomenal creative companies and individuals within the 3D arts communities. As a digital artist, what do you value most about working in NZ?
ET:  Wellington is an awesome place to study and to work; it's a city thriving with culture and everything is practically within walking distance. With Weta Digital just down the road making blockbuster films including all the Avatar sequels, Mechanic Animation working on Marvel's animated TV shows, PikPok game studio and a whole slew of digital tech startups, the time is right for training to enter this exciting industry where the horizons broaden every day.
ACR:  Last but not least, Eli, Yoobee grads are highly desirable in the field and have accumulated many accolades. Among their achievements, are there any that exemplify Yoobee's role in New Zealand's VFX industry and beyond?
ET: Justin Broom graduated from my 2014 class and soon after, I hired him on as my Second in Command at Crabmech FX while we were working on Automata. Now he's at Weta Digital and he is the one who trains all the new recruits to the ATD programme! I couldn't be more proud. We have heaps of graduates working at big production companies like Weta and many overseas, like Tom Mccarthy at Framestore in London and Noel Wellington at Zoic Studios in Vancouver. From last year's class, we have Oscar Bartle who has gone on to work at Park Road Post as a Compositor and also Luanna Phillips who has been working at Weta Digital as a Texture Artist- having already won a prestigious paid internship there in 2016.
The feedback we get from the industry shows our graduates are desired for their hands-on knowledge and experience, along with their can-do attitudes. Our courses simulate industry workflows, with lots of teamwork, realistic deadlines and a healthy dose of curveballs too, so students graduate fully equipped to take on the 3D / VFX industry.
ACR:  Awesome all around, Eli. Thanks so much for filling us in.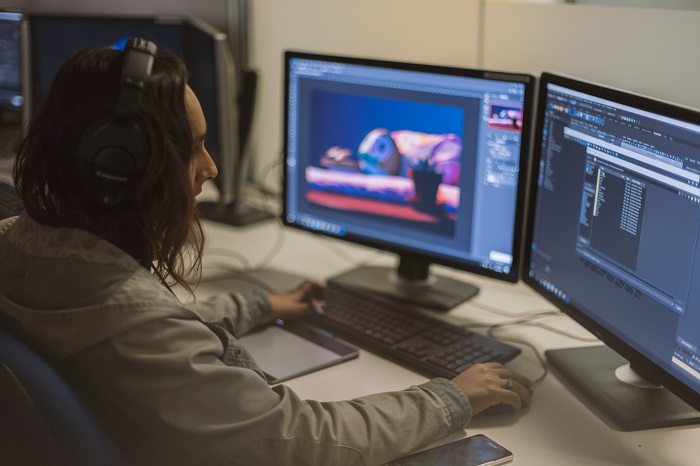 Check out more interviews at The Animation Career Review Interview Series.