I've been writing about the animation industry for nearly a decade and last year I assembled the rankings for our 2014 Top 100 Most Influential Video Game Studios and 2014 Top 100 Most Influential Animation Studios. This year, I want to create a comprehensive list of the one hundred best studios to work at across all animation industries.
To help research the constantly evolving landscape of the job market, we sent surveys to hundreds of schools asking which studios actively recruited their students as well as which studios most often employed graduates. When choosing which of the hundreds of companies to include, I also considered what projects studios were working on, and even the quality of life at those studios regardless of salary. Studios are listed in alphabetical order: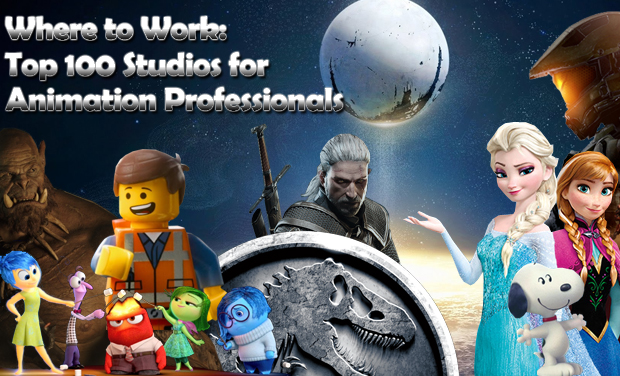 343 Industries
This is the studio that took over Bungie's Halo series back in 2009 and released Halo 4 in 2012.  In October this year we'll finally get to play Halo 5: Guardians and see what's in store for the future of Master Chief. No matter where the series is headed, I'm sure 343 will consider hiring plenty more game artists in the coming years to create make Halo 6. Next year we'll get Halo Wars 2 to help us wait.

A-1 Pictures
This is simply one of the hardest working animation studios in the anime industry today. In 2014 and 2015 combined they have released a new season for twenty four different anime series including the highly anticipated Sword Art Online II and Persona 4 The Golden: Animation. Sure, they often collaborate with other animation studios to complete so many shows, but I don't think we've ever seen a 2D animation studio deliver such an intense schedule of releases in such a short amount of time.

Aardman Animations
If you fell in love with the stop motion clay animation in Chicken Run or the Wallace and Gromit films, then this is a studio name you probably know well already. In 2006, they entered the computer animation industry with the film Flushed Away, and since then they've worked on the films Arthur Christmas (2011), The Pirates! In an Adventure with Scientists! (2012), Shaun the Sheep Movie (2015) and they're currently at work on Early Man (2018) and Shaun the Sheep 2 (TBA).

Animal Logic
My prediction from last year for this Australian studio hasn't come true yet, but I'm still holding out hope! Illumination Entertainment hired Mac Guff to create most of the film Despicable Me for them, and then used the massive profits to buy the studio outright. Warner Bros. Animation went through a similar symbiotic relationship with Animal Logic, which animated all of The Lego Movie for them, so I still wonder if an acquisition is on the horizon. Either way, Animal Logic just opened a new office in Vancouver a few days ago, so they're doing just fine! Both offices are hiring, so check them out!

Anzovin Studio
This animation company is located in Massachusetts and offers services in storyboarding, animation, graphic design, game art, software development, Maya plugins, character designs, character rigging, and can work in Maya, Mudbox, 3DS Max, ZBrush, VRay, Substance Designer, and all the Adobe CC products. Their rigging tools look superb, and it's no surprise they've worked with famous clients like Bungie, A&E, PBS Kids, Microsoft, Syfy, DreamWorks Animation SKG, and Sea World. If you want to work on lots of different projects over a year instead of a huge neverending project over many years, then this could be the perfect studio for you.

Bardel Entertainment
The name "Bardel" comes from the names of its married founders, Barry Ward and Delna Bhesania, and they formed this Vancouver animation studio in 1987. Together they've handled plenty of large projects in the past, but what's really gaining them global recognition is The Prophet and their hilarious art in the new television show, Rick and Morty. One of their other ongoing projects is doing all the animations for VeggieTales and VeggieTales in the House.

Bento Box Entertainment
This California studio is one of the younger ones on the list, but already has several hit series under its belt. Founded in 2009, they've already helped worked on Neighbors from Hell, Bob's Burger's, Allen Gregory, Brickleberry, Out There, Murder Police, and Bordertown. Add in the Web series The Awesomes and Gloves and Boots, as well as the films Achmed Saves America and Madea's Tough Love, and you've got one of today's most promising young studios.

Bethesda Game Studios
If you're a gamer, then all I have to say is the Fallout series and The Elder Scrolls series. Enough said? Enough said. Not a gamer? Then this is a studio name to remember; even when it's been years since they've released a game for either series, I still listed them as one of the most influential video game studios in the world. When Skyrim came out in 2011, the Internet was a quiet wasteland for a few days as everyone unplugged to play the expansive game. Forums went dry, comments sections were barren, and no one got insulted on YouTube for a whole sixty seconds once. Then, a few days later, the Internet damn near broke when everyone came back all at once and discussed the game everywhere and anywhere on every dot com imaginable, which made for one of the most memorable months the net has ever experienced. This November, Fallout 4 will finally be released! Prepare yourselves!

BioWare
One of the oldest game studios on this list, BioWare was founded back in 1995 and has been relevant ever since then. Its famously memorable storylines rely heavily on award winning writing, making it a highly competitive studio to get employed at. Lately they've been releasing several games for the series Dragon Age and Star Wars: The Old Republic, and are now looking to launch another Mass Effect title. They've got a lot of exciting things in motion, but they also have a lot of job applications, so bring your best and see if you can get an interview.

Blizzard Entertainment
In one word, legendary. Blizzard was legendary long before they became an Activision subsidiary. Sometimes Blizzard gamers can be notorious for only playing Blizzard games, but even when that's not the case, the loyalty is still strong. When Blizzard releases a game, almost everyone plays it, regardless of their demographics. For decades they have released the most breathtaking 3D animated cinematics the world has ever seen, even when compared to the best films the box office has to offer those years. They only hire the best, but the projects they tackle are so huge that they hire a lot of employees, so if you want to be one of the thousands of names listed in their next credits list, then apply and see what happens!

Blue Sky Studios
Ever since 2002 when they released their first animated film, Ice Age, it's been a snowball of momentum as they released eight more animated full feature films to date. Gone are the days where Pixar and DreamWorks had no competition except each other, and this studio is looking to finally win an Academy Award with one of their upcoming projects in the next few years: The Peanuts Movie, Ice Age: Collision Course, Ferdinand, and Anubis. They'll need plenty of help for those projects, so now is the time to reach out to them and get hired.

Bohemia Interactive 
Their ARMA 3 game was released in 2013, and then its DayZ zombie survival island mod took over PC gaming in a way that few games ever have in the industry. ARMA 3 and DayZ are still to this day two of the most played games on Steam each and every night of the year even though dozens of studios have cloned their ideas and formats and diluted their stranglehold market share. Bohemia Interactive stays on top of the charts like a zombie that just won't die. They're hiring for several positions at their studio in Prague, Czech Republic, which is where their subsidiary studio, Centauri Production, is also located at.

Bungie
Back in 2009, they gave their famous Halo series to 343 Industries, and many gamers and businessmen alike thought they were crazy for handing off that lucrative torch to another studio. Could they simply start from scratch and just invent a new independent property and sweep the game industry once again? Years went by without any new game release, but now we know that the answer is yes! Destiny was finally released last year and their new expansion The Taken King caused so much new attention for the game that their monthly player following is still growing rapidly. Expect more expansions, which means more money, which means more jobs! They have 97 job listings on their career page, including several animator positions!

Cartoon Saloon
This Irish animation studio was founded in 1999. They've worked on several short films, the films The Secret of Kells, Santa's Apprentice, Moon Man, and Song of the Sea, and television series such as Skunk Fu!, Puffin Rock, and Ellie the Ace. It wasn't until 2010 when The Secret of Kells was nominated for best animated film at the Academy Awards that this studio gained massive notoriety. Song of the Sea was also nominated at the Academy Awards for Best Animated Feature, so we can't wait to see this studio's next project, the film The Breadwinner!

Cartoon Network Studios
This conglomerate is as vast as it is varied, and there's nothing you can't do or learn if you're hired by them. The company began in 1994 as a division of Hanna-Barbera Cartoons and it continues to discover and work with some of the most influential shows and artists in the animation industry today. The studio's recent fame list includes Adventure Time (created by Pendleton Ward), Clarence (created by Skyler Page), Uncle Grandpa (created by Peter Browngardt), Steven Universe (created by Rebecca Sugar), Mixels (created by John Fang and Dave Smith), Regular Show (created by J. G. Quintel), Over the Garden Wall (created by Patrick McHale), and all the others I don't have space to list. Maybe you will be next?

CD Projekt RED
Few studios have their fans as obsessed as this Polish game developer does. It's a mutual love though, and CD Projekt RED listens more to their fans than perhaps any other studio in the industry. They are willing to go to great lengths to give fans exactly what they want, not to mention speaking out loudly against DRM. Their three main The Witcher games have each been released four years apart, but always fans patiently wait because they know it's worth it. The Witcher 3: Wild Hunt was fantastic, as was the large amount of free DLC, and fans are already looking forward to the expansions Hearts of Stone (October 2015) and Blood and Wine (early 2016). They're still working on Cyberpunk 2077, and are currently hiring positions for both games!

Cinesite
In the past, this was your standard larger than life VFX powerhouse studio that had everything in the world, and couldn't possibly want more. But they did. And in what I hope is an ongoing trend in the near future, they decided to focus less on hundreds of spectacular small VFX projects and instead tackle their first in-house full length animated film, Charming, about what would happen if Cinderella, Snow White, and Sleeping Beauty all discovered that they were engaged to the same Prince Charming. Oops! The idea is brilliant, the talent is top notch, and if they hit the grand slam everyone expects them to, then Pixar will have yet another direct competitor forever onwards in the 3D industry. Let's hope!

Crystal Dynamics 
This California studio was founded in 1992, acquired by Eidos in 1998, which was in turn acquired by Square Enix in 2009. If at first you don't succeed, try, try, try again. A decade ago they released several Tomb Raider games that struggled to reignite the once-popular series, and then in 2013, everything changed when they launched the emotional and gritty Tomb Raider reboot that gamers are still talking about. They've since followed it up with the two much different Tomb Raider spinoffs: Lara Croft: Relic Run, and, Lara Croft and the Temple of the Osiris. Next year we'll finally get the Tomb Raider reboot sequel we've been waiting for when they release Rise of the Tomb Raider on PC, PS4, Xbox One, and Xbox 360.

Crytek
For the longest time, Crytek mostly focused on the Crysis game franchise, but in the past few years they've been expanding like crazy and we couldn't be more thrilled. They currently have studios in Frankfurt, Kiev, Budapest, Sofia, Seoul, shanghai, and Istanbul. Since 2013, their projects have included Crysis 3, Warface, Ryse: Son of Rome, The Collectables, Hunt: Horrors of the Gilded Age, Robinson: The Journey, and Arena of Fate. They're exploring lots of new genres with lots of new IPs, and they're positioned to be one of the strongest game companies in the world in a decade if they execute the full potential of their ideas.

Daybreak Game Company
Formerly named Sony Online Entertainment, this is the studio that's been responsible for vast online games like EverQuest, EverQuest II, PlanetSide, Star Wars Galaxies, Vanguard: Saga of Heroes, DC Universe Online, and in recent years also PlanetSide 2, Dragon's Prophet, Landmark, and H1Z1. Lately it hasn't just been the studio's name that's changed; they're completely redefining EverQuest by developing EverQuest Next as an ambitious and bold MMORPG that has even non-MMO gamers intrigued. Their ongoing support for several MMO communities should mean they'll always be open to extra help, so even if they're not hiring for your position currently, apply anyways!
Pages