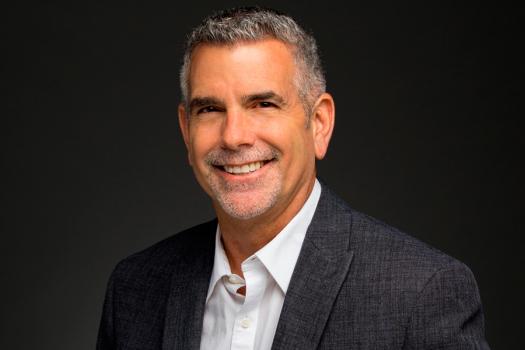 Ed Cheetham heads Ringling College's Motion Design Department- one of the finest BFA programs of its kind. Motion design transcends the limitations of traditional animation to encompass all motion-based imagery on a variety of media- from film and video games to web-based animations and graphic design.
A rigorous curriculum goes without saying at Ringling, so applicants to the program are carefully selected and guided through their years of study with plenty of one-on-one time with award-winning faculty and advisors. Uniquely, students gain practical knowledge of motion design from their very first year. As is the case with all of Ringling's students, motion design students put theory into practice in the campus' industry-grade studio classrooms, and through internships. A collaborative environment and broad skillsets remains the hallmarks of the program, ensuring they have what it takes to adapt to any and all future industry needs. It's little wonder that the college's Motion Design students continue to garner top awards at competitions, while graduates leverage their education for some of the world's most interesting and competitive workplaces.
For our latest Spotlight Q&A, we catch up with Cheetham to ask him about the Motion Design program, how it works in syncronicity with other programs on campus, and how the fundamentals of the craft never go out of style. Enjoy!
ACR: Ed, you began teaching animation at Ringling College in 1991 and now serve as Department Head of the Motion Design program. What was the genesis of the program, and how did you determine which courses and skillsets were most imperative for its success?
Ed Cheetham:  In 1991, our Computer Animation Department produced short films and motion graphics; computer animated feature films had not yet been made. When Toy Story came out in 1995, our curriculum changed to focus completely on narrative character animation. Years later, Ringling College wanted to expand on its strengths in animation, so there was a return to our animation roots which were more in broadcast design. Looking towards the future, broadcast design was only one aspect of this growing field, so the name Motion Design was chosen to reflect and embrace all types of moving imagery.
The Motion Design (BFA) major was designed from the ground-up to be an accurate reflection of the industry. The courses were developed to address the major skillsets used in the production environment. To work in a motion design studio, you must be flexible and wear many hats; you must develop strong concepts and design them for clear communication; and you must bring them to life through expressive animation.
This is why our classes are not isolated, but rather they work in tandem to address the main skillsets needed. They are developed together to enhance and support each other. Concept Development, Design, and Animation are the three core courses that students take each semester (in the program). Work created in the Concept course can be used and refined within the Design course, and then brought to life through motion in their Animation course.
ACR:  Freshmen students in the Motion Design department hit the ground running with their major right away. Does this mean that there are fewer foundational courses at Ringling College?
EC:  Like you say, at Ringling College the first year curriculum has been designed to allow students to immediately start working within their major. We believe that starting education specific to the major of interest allows us to provide a broader range of experiences and challenges that specifically target and strengthen the skills students need to succeed in that field.
That said, we do not offer fewer foundation courses; however, the ones we offer are taught through the lens of each major. Each department has the responsibility to teach the foundational courses that apply most to their major. Instead of offering fewer foundation courses, we offer targeted foundation courses that result in graduates who are better prepared, with more experience, to enter their industries. And it works, as demonstrated by our high placement rates.
For a motion designer, the fundamentals of design are taught in that first year. Since motion design is so broad and multi-dimensional, students have the opportunity to develop skills in many areas beginning their very first year of school.
ACR:  Ringling is well known for its roster of dedicated, award-winning faculty. Aside from their industry qualifications, what attributes are most important to you when selecting instructors for the Motion Design program?
EC:  One of the great things about motion design is that the types of skills we teach are varied. Each member of faculty brings a critical expertise into the mix—we are not a very homogenous group. We have graphic designers, visual effects artists, 2D illustrative animators, 3D computer animators, and stop motion animators.
There are several attributes, however, that our instructors have in common. A caring, positive attitude is critical. We also look for those who are generous with their time in and out of the classroom, work well on a team, are conscientious about details, and take personal responsibility for their course, curriculum, and student success. All of our faculty are full-time which enables the whole department to work together to develop and continuously refine the curriculum.
ACR:  Ringling's students leverage enviable studio-grade facilities and equipment to gain an intimate knowledge of the professional pipeline. Give us a glimpse of what they have access to. and how they put it all to use day-to-day or project-to-project.
EC:  We have designed the Motion Design department to replicate a mid-sized motion design studio. There are approximately 150 students, 10 full-time faculty, and numerous IT and support staff. The department is centralized on one floor, with all the labs and facilities needed to complete any type motion design project.
Specifically, students have access to 3 Mac labs / 1 PC lab, a Cintiq Lab, a green screen studio, a stop motion lab, an audio recording suite, large scale printers, laser cutters, 3D printers, and most importantly, access to the entire Motion Design faculty. Within their courses, students are given a broad range of motion design challenges. Much of the class time with faculty is centered on individual and group critique. Outside of class, students can use any of the facilities and equipment needed to complete their projects.
ACR:  How might an upperclassman in the department put all of these tools together for a project?
EC:  For a typical senior project, a student might start with sketching ideas in their notebooks, and then scan those sketches and bring them into Photoshop or Illustrator and refine them using the Cintiq lab. They would assemble pitch materials including style frames and storyboards. After a concept is chosen, they might arrange a session in our audio suite with the sound designer to record a rough sonic direction. They might go into the green screen room to film assets with the Red Cam. Some would work to animate their concept in 2D (AE) or 3D computer animation (C4D), while others may choose a different medium and produce their animation by hand using one of the stations in the stop motion lab.
Students using stop motion can build their own armatures, or use the 3D printers or laser cutter to create the needed assets. As they refine their animation, they go back in the audio suite to finalize their audio mix and add appropriate sound design. The final rendering (Octane), compositing (Nuke) and image finishing is made on their classroom PC computers with a GPU render farm. All of these steps are completed with faculty and peer review and critique.
ACR:  Motion Design is a field that evolves rapidly, requiring professionals to be adaptive while solving problems creatively with design, sound, time, and space. Does this constant evolution alter what or how you teach your students?
EC:  While the field is certainly evolving, the basics of motion design remain constant. Our curriculum is founded in a solid understanding of visual communication. The tools and challenges for the industry are complex, and increasingly so, but our goal is clear and effective communication.
Motion design is all about human connections and reaching people. As educators in the industry, we teach our students to use their image-making skills to evoke feelings, which in turn prompt actions. In order to do so, we prepare students with a variety of design challenges that appear very different but require them to consider the audience, the client, the message, and the desired response. They learn to work with others on a team, to present their work professionally, and to undergo honest critique. This remains constant.
While the technology and tools for the industry are evolving- and we embrace those changes and encourage our students to work across media- in the end our curriculum centers on reaching an audience and fulfilling the desired objective.
ACR:  On that topic, are there recent advancements or trends that seem poised to make a big impact in the field in the coming years?
EC:  Motion designers will be playing a major role within the area of experiential design. The ability of motion design to define a mood, inform, excite, and entertain will make it the centerpoint for interactive experiences. Augmented Reality, the ability to enhance the real-world experience, will also be a major focus for motion designers. As motion design reaches far beyond the rectangular television monitor, large scale video projection mapping will be more and more commonplace.
These areas are all projects that are currently incorporated within Ringling College's Motion Design major. Students are given the opportunity to imagine and solve these new types of visual communication challenges. Ringling College just launched 2 new majors: Virtual Reality Development and Entertainment Design. I see a great deal of future collaboration between our motion designers and these new majors, expanding the reach and impact of motion design.
ACR:  Through internships and guest lecturers, your students gain a working knowledge of motion design. Tell us a little about Ringling's industry partners and how they contribute to your students' education.
EC:  Being in Sarasota, Florida, it's important to maintain a strong relationship with the entertainment hubs of NY and LA. To that end, we bring in many visiting artists, studios, and speakers to reinforce our connection with the industry. In addition to speaking, our guests review student work, discuss their impressions of the students and their work with the faculty, and make suggestions on our processes and projects. The faculty are very active within the industry and have direct connections to it.
This experience is beneficial to everyone involved. Our students often land internships and project opportunities through these connections, and they acquire skills that change their work habits. Working with clients, they see the direct connection between the industry and what we expect of them in the classroom. They develop a much greater appreciation for the amount and quality of resources available to them.
The faculty also continue to learn from these interactions and work to emulate current industry practices within the classroom. It helps to keep our curriculum relevant, which in turn helps our graduates get jobs, succeed at those jobs, and then pay it forward to future students.
ACR: Recently, your students took the top 3 spots at the 24 Hours Animation Challenge. Congrats! What is this competition, and what was it about your students' work that set them apart in your opinion?
EC:  The 24 Hours Animation Contest for Students was created by Aubry Mintz, Director, School of Art, California State University Long Beach. Now in its 16th year, the contest challenges participants in teams of five to create a 30-second film based on a given theme in a designated 24-hour period. This year, the films had to depict a strong point of view educating an audience about the need to have empathy and to animate an experience that will help convey to the audience what it is really like to speak their truth. Teams work from their home school and submit a YouTube link of their films before the deadline. They are then judged by industry artists. This year, there were 219 teams from 54 colleges and schools, from 9 countries. It is a very difficult challenge, and there were many beautifully animated pieces.
One reason I feel that Ringling College's work has risen to the top is that the winning students are not only animators, they are motion designers. They are skilled in 2D, 3D, and stop motion animation, as well as graphic design, concept design, and advertising. Our Motion Design curriculum has prepared them to compete in competitions like this because, in addition to empowering students to acquire a broad number of relevant skills from freshmen year on, Motion Design projects have been in the form of a creative brief. So students are very familiar with analyzing client goals, identifying the target audience, and crafting their design decisions around the successful completion of the client's goals.
ACR:  Lastly Ed, where do you want the Motion Design Department to be in the next decade in terms of its impact on the industry, motion graphics higher ed, and more?
EC:  Over the next ten years, I see our department expanding and growing along several axes including social responsibility and technology. More and more, I see students who are socially conscious and who design with their conscience to promote a positive, uplifting, and impactful point of view. I foresee students continuing to work with nonprofits to help communicate their messages. Today's cohort of students cares—about the environment, other people in the world, and each other. I see this not only in their work and in the design solutions they come up with, but in the support they have for each other. We have such a strong Ringling College community in which our graduates support and give back to the current students.
In addition, our department and students will continue to embrace new technology. Currently, our students and graduates are working in some of the top creative companies, producing nationally and internationally recognized projects. They work in animation studios, networks, tech businesses, the automotive industry, corporations, and visual effects studios. Within the few short years of our major, we have only had six years of graduates, and this year two were honored with an Emmy for their title design. They have these opportunities because they master the basics of visual communication and they know how to work with leading technology and tools.
In the end, I just want my graduates to have choices for their future careers. And I believe, over the next decade, we will continue to see students graduate with several paths open to them.
Check out more interviews at Animation Career Review's Interview Series.