We've been shining a spotlight on the many digital arts programs offered by Full Sail University in recent months. Readers will recall our interviews with Full Sail's 3D Arts director and Game Art director speaking about their respective program offerings and the unique attributes of Full Sail. Today, we turn our attention to the university's Game Design bachelor degree program.
Students can elect to pursue their B.A. in Game Design online or at Full Sail's studio-grade Florida campus. But flexibility and Florida's sunshine aren't the only things that attract prospective students to the program. With an accelerated curriculum that cuts traditional bachelor degree duration in half, faculty drawn from industry, and a jaw-dropping array of industry-grade equipment, it's easy to see why many students sing the praises of Full Sail.
All that said, Full Sail's Bachelor of Game Design is not for the faint of heart. To make it in the high-flying and competitive world of games, the university initiates students with a demanding real-world schedule that requires nothing less than everything you've got. To learn more about the Game Design bachelor's program, we caught up with not one but three Full Sail faculty members for our latest Q&A: Program Director Lee Wood, Department Chair Zack Hiwiller, and Course Director Dax Gazaway. We'll let them take it from here. (This interview was done via email and has been edited minimally for length).
ACR: Gentlemen, thanks for participating in our latest Q&A. To start, give us a brief overview of the Game Design Bachelors program at Full Sail University.
Full Sail Game Design Faculty: The Game Design bachelor's degree is comprised of high-level game design and production courses, and it covers key industry concepts including usability and game economics in addition to foundational topics like storytelling and character development. The Game Design bachelor's degree is a design-focused degree, whereas our master's degree focus lies in production.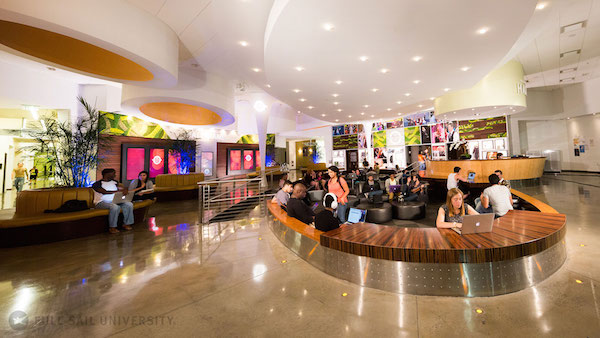 Q: Good game design requires a broad knowledge of many areas of study- from play and aesthetics to theory of systems, mechanics, and psychology. What are some of the courses students in your program take to give them these foundations?
A: One might contend design is more about systems, mechanics, and psychology than about aesthetics. In the Psychology of Play course, students explore how psychology values the concept of play as a mechanism and allows a person to apply game strategies to accomplish life goals. Students examine how the action of play shapes the brain, develops critical-thinking skills, and strengthens the ability to collaborate with others.
By exploring the key works of historical and current researchers and theorists, students learn about the value of play and how to apply techniques of play in developing cognitive strategies to complete creative, professional, and social tasks. Within the degree, students also take part in the Building Functional Groups course which investigates collaborative techniques and communication skills. The objective of the course is to expose student groups to the foundational basics needed to act as functional group organizers and team members in any environment.
Q: Globally, games continue to expand into new segments of the population. Does this challenge game designers to reconsider elements of gameplay, story, or monetization to meet the demands of more diverse participants?
A: Absolutely, but this isn't a new trend. Everyone is a potential player and always has been. Innovations in mechanics, story, or delivery models always attempt to bring in new customers. Ten years ago, you had to put a game in a box and sell it for $50 or $60 at a large retailer to have a viable business. Now the dominant model is to give a game away for free and make money during play. Who knows what the model will be ten years from now, but game designers have to be prepared to adapt to it.
Q: Speaking of, do game narratives and aesthetics evolve or react to the changing landscape- most recently with mobile, AR and VR?
A:  Every few years the landscape changes. The shift to mobile gaming isn't unique. We started on mainframes and moved to arcades. We moved from arcades to television consoles. We moved from television consoles to handheld games. We had a short boom in "massively-multiplayer". We added mobile. We continue to shift to virtual reality, augmented reality, idle games, custom devices, installation games, and so on and so on. So yes, aesthetics shift, but they never stop shifting.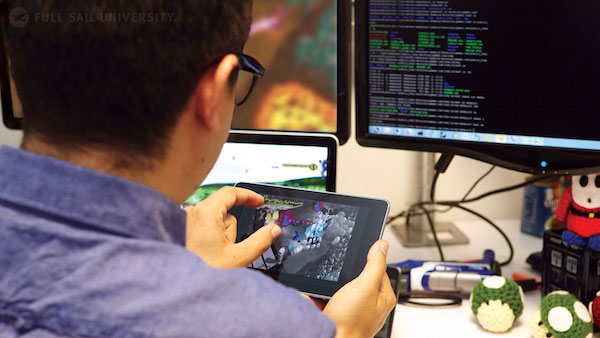 Q:  Does your curriculum factor in game design for non-entertainment applications like simulations or so-called serious games?
A: Most of our students join the game design program because of their interest in digital entertainment games. However, our curriculum has been formulated to tackle interactive design as a whole. For instance, a key assignment in our Systems Thinking class has students balancing formulae for a casino slot machine.
Q: On-campus, students have 24/7 access to studio-grade equipment and labs to meet the demands of the accelerated curriculum. For those uninitiated into the unique educational environment of Full Sail University, tell us a little about this feature.
A: Students attend classes 30-40 hours per week. Sometimes those courses occur early (in the morning) and sometimes late (at night). Students on-campus have access to their labs and equipment during the time they have scheduled within their 30-40 hours. Through Project LaunchBox, each student is equipped with their own (MacBook Pro) laptop allowing them to access their files, coursework and projects round the clock from anywhere.
Q:  Full Sail has fostered many industry connections- something that's evident in your faculty roster. Tell us a bit about your instructing colleagues and their backgrounds.
A: All of our faculty has experience in the game industry. Thus, we leverage our experience and connections in our classroom lectures and assignments. Our faculty has a very diverse collection of backgrounds from traditional "AAA" games to independent games to casual games to military simulation and even board games. Our graduates have given us a similar diverse range in their employment success.
Q: Last but not least, having worked in the industry yourselves, what's the number one 'soft skill' that served you well in your own game design careers?
A: You're always part of a team- and not the most important one, either. Success depends on contributions from everyone. A solid project can be made with average team members who work hard and work together. A talented group who cannot work together will not find success.
Q:  Lee, Dax and Zack, thank you all so much for giving us a snapshot of Full Sail's Game Design Bachelor program!