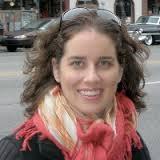 ACR's new interview series Women in Animation spotlights the work of women in the fields of animation, multimedia and game design. For over a century, women have influenced generations of animators and audiences, bringing their own perspectives and dedication to the craft. This series follows the work of this generation's women animators and brings you their voices.
Blending live action with alluring animation techniques, film maker Meghann Artes explores subjects big and small while captivating international audiences with a dazzling array of textiles, props and emotions. Fans of her films are the benefactors of a life changing decision the young Artes made while still an undergraduate. She didn't set out to make films; instead, she expected to follow in her family's footsteps and embark on a career in business. But fate had other plans for Artes which harkened back to the beloved home video productions of her youth.
On the heels of an esteemed education at UCLA, Artes launched her animation career at major studios including DreamWorks, PBS and ABC. Now a working freelancer, she also teaches at DePaul University and imparts her enthusiasm and knowledge to a new generation of animators and film makers. We were delighted to speak to Meghann for our latest Women in Animation Q&A!
ACR:  It's great to speak with you, Meghann. It's been so fun watching your rather bewitching short films. When did your interest in film making begin?
Meghann Artes:  I have to say it was when my father won a video camera. I was about ten years old, and he had no need for it so it became my toy. I set up scenarios with my dogs and sisters and became obsessed with making movies. It was very crudely done- starting and stopping scenes and going through something of an editing process. Eventually, I ended up at the University of Iowa where I started as a business major. I took an animation class by Johanna Hibbard in the Film Department and she really opened my eyes and showed me animations and film that blew my mind. Needless to say, I switched majors and earned my B.A. in Communications and Film Production before getting my MFA from UCLA.
ACR:  Right, you have an MFA from UCLA's prestigious Animation Workshop. What was that intensive experience like?
MA:  I feel so blessed, honestly. I knew that once I got through the doors, the rest was up to me. Getting up at two or three in the morning, deliriously, to work on my projects was intense. But I liked the idea of 'one person, one film' at UCLA and I did a lot of experimenting to figure out my creative voice. They gave me the time to do that and nurtured me.
ACR:  Your career then began at Sesame Street where you won a Peabody Award, correct?
MA:  After I graduated from Iowa, I worked as a freelancer at Sesame Street for a few years. It was an amazing experience to say the least. I then got a staff job at Nickelodeon but I wasn't animating so I jumped ship to go study at UCLA. By then, I knew that this was what I wanted to do. After grad school, I went back to Sesame Street which is when I won a Peabody Award.
ACR:  Today, you're an independent film maker as so many animators are. What do you value the most about freelancing, and what are your frustrations?
MA:  I love the idea of working for myself but you have to make a living. Working nine to five in animation is non-existent… you work until you can't feel your fingers anymore! You're excited to finish a project but once you do you're worried about where your next paycheck is coming from. On the plus side, I can freelance in my pj's. But it's also easy to get lost in your thoughts. I obsess over the smallest details freelancing, whereas if I knew the director was coming around to look at my scene at the end of the day I'll make sure it's as clean as possible but I'm ultimately watching the clock. So there are pluses and minuses to all sides.
ACR:  How does directing actors affect the film making process in your hybridized film making approach?
MA:  It's similar to directing a live action film but with the caveat that a single smile can take twelve or twenty different pictures. So you need to work with very patient people to get to the point. It's helpful to have amazing actors like Thomas Kelly (Sleepy Steve), too.
I tell my students at DePaul that they need to get up and act their scenes out even if they are entirely animated. It's physical. How do we show emotions? I ask them to record themselves because it's easy to not give enough time for action to come across.
ACR:  Your short Speed Dating is a hilarious look at the trials and tribulations of the matchmaking process known by the same name. Did you draw from personal experience?
MA:  I did! My best friend in California and I went to a speed dating event some years ago. It was raining that night and I mirrored a lot of the things that happened in the short. The night afterwards, we went out to eat and laughed and just had so much fun talking about it.
ACR:  Sleepy Steve is another wild and wonky look into the world of your protagonist… what was your inspiration for it?
MA:  I'm obsessed with Rube Goldberg and PeeWee Herman and that's the idea behind Sleepy Steve. We live in a world where everything is laid out for us… we have apps for this and that and we put so much effort into making our lives easier. But do these things really make life easier for us? That's the question I wanted to explore.
ACR:  Your films are loaded with creative uses of materials. How do you identify which things make for good props?
MA:  I'm very tactile and I love going to flea markets and thrift shops. I need to touch things and see how they move. I feel like the props in my films should have texture. Speed Dating took two years because I get an idea but am unsure how to best animate it. I get mental blocks all the time, so I try something and see if it works. In Soup, for every technique that worked there were two that didn't. There's so much experimentation in animation.
ACR:  Does having a broad background that includes business and communication help you as an animator?
MA:  Absolutely. The more things you can do, the better animator you'll be. For someone who is considering going to grad school, some of the best animators came from other fields. They're from architecture or costume design or acting. That aside, the more you can draw, take pictures, and write stories the better you'll be. As I'm fond of saying, animation is a sport and our creative brain is a muscle… you need to practice and use it.
ACR:  When you're not juggling deadlines for your films, you're an Assoc. Professor in DePaul University's School of Cinematic Arts. How is teaching treating you?
MA:  I absolutely loved being a student and I love being a teacher now. I was so excited as a student making films, and I can see that same excitement in my own students which makes me want to be more involved. They become my friends and we help each other grow as film makers. Plus, DePaul is an amazing place… I've never seen a film program like it. If they have the willpower, they can take from here everything they need and be set for their careers and life.
ACR:  Meghann, it's been great to catch up with you. Looking forward to watching more of your shorts in future!
Check out more interviews at The Animation Career Review Interview Series.