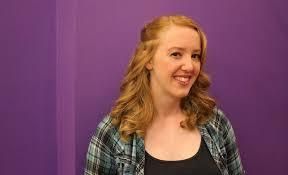 ACR's new interview series Women in Animation spotlights the work of women in the fields of animation, multimedia and game design. For over a century, women have influenced generations of animators and audiences, bringing their own perspectives and dedication to the craft. This series follows the work of this generation's women animators and brings you their voices.
You might not expect it given her still tender age, but 20-something game designer Ashley Ruhl knows a thing or two about leveraging her skills to navigate the world of games and the tight knit industry that makes them. Maybe that's why she recently landed on Forbes' 30 Under 30 in Games list. But Ruhl didn't grow up playing first-person shooters nor did she even consider a career in games until she was nearly done with college. It was her background in puzzle games and her interest in the rare relationship between designer and gamer that eventually won her over.
Working as a contracted cinematic designer with TellTale Games, a development and production house known for its game adaptations of popular film and TV shows, Ruhl spoke to us about her work at Telltale, what she sees firsthand in the industry, and how she believes things are evolving. While she's not shy about discussing the industry's weaknesses, she's bullish on the future of games for and by people from all walks of life. Read on… we know you'll enjoy this one! (This interview was done via phone and has been edited minimally for length & clarity).
ACR:  Ashley, it's great to speak with you today. You're a cinematic designer at Telltale Games. Tell us what your role encompasses...
Ashley Ruhl:  Cinematic design marries directing, editing and acting into one role. At Telltale, we have a huge cinematic design team who work under one episode director. Under their direction, we do things like stage the scene, apply animations, set up the button prompts, make the characters act, set up camera angles and determine the pacing of the gameplay. In my role, I get to encourage the player to feel a certain way or pursue a certain goal. It's interaction design that creates a back and forth between the designer and the player and that's what I love about it.
ACR:  Telltale's episodic games feature rich environments and narratives. From Game of Thrones to Tales from the Borderlands, you work on very different titles that are each unique. Going from one to the next must keep you on your toes…
AR:  It's a big task and we get thrown between episodes rapidly with an aggressive release schedule. It definitely shifts things around going between a game like Game of Thrones which is more serious with subtle camera shots to Borderlands which is more chaotic with whip pans and zooms, or Minecraft where the imitation of the (original) art requires adjusting camera styles because everything is so square.
ACR: How do you get up to speed and prep for each new title you work on?
AR:  Since Telltale works with other peoples' IPs, there's reference material we work with and we have a lot of resources. Our directors put together a design bible which shows how the show is shot, the angles, the focal length. When we did Minecraft, we all played it to get up to speed. One of the things I like about Telltale is that it's about paying as much respect to the original IP as possible. The reputation is built on tying in media without it feeling like a corporate sell-out. In the 90s, every cartoon that came out had to have a game tie-in which were generally awful; we break out of that perspective by respecting the content and adding to that world.
ACR:  Speaking of 90s games, what games influenced you the most as a kid?
AR:  It's funny because I didn't get into console games until I was about 12 years old. My parents never let us have a Nintendo so I played educational games and point-and-clicks like Myst. The Myst series was huge in our house. We sat around the computer and played them as a family... it was a great group experience. One of my favorite games is Prince of Persia: The Sands of Time. It had an excellent story with a character so full of himself- a fact that the writers were constantly poking fun at- that he really develops as a person. Plus, the rewind feature allowed you to rewind mistakes without breaking your flow which was such a great element.
ACR:  You studied animation at DePaul University. When did you decide that games was the direction of your career?
AR:  During my junior year, I went to GDC (Game Developers Conference) with my then-boyfriend and now husband who is a programmer. I decided to go and show my portfolio to a few companies. It was eye opening to learn about the things that studios were looking for. Then I went to IGF and the Game Developers Choice Awards and began realizing that unlike movies, which I had been focused on, games were an interactive medium that can tell stories based on a player's input. Some of the best games create an emotional experience from your own actions, and somewhere around my senior year at DePaul I realized that I wanted to allow a player to tell their own story. I had dreamed of working at Pixar, but games felt more interactive compared to movies which you see once and that's it and that's what drew me in.
ACR:  What is it like working in the tight-knit game design community?
AR: The game industry feels very small at times. For me, it's been a huge boon because I've had a lot of resources and a large community to leverage. Much of the game industry is dependent on interpersonal relationships and that rapport is integral.
ACR:  Do you leverage mentors?
AR:  I don't have any particular individual but I reach out to my old professors who are working in the game industry now and I also look up to a lot of people I work with who have been in the industry longer than me. I always tell them that I want to be as cool as they are and keep developing myself through time as they have. I look to them to stay passionate and focused about what I'm doing and continue to enjoy it.
ACR:  It might be a daunting prospect to remain passionate in a field known for its grueling working hours. How do you think the industry can overcome some of the barriers that affect women and working parents disproportionately?
AR: I think it comes down to demanding a better working environment and choosing to work for studios that support that. As the industry is aging, a lot of studios are starting to cater to those demands by introducing extended maternity/paternity leave and enforcing healthier working conditions to attract new talent. Still, the biggest companies can use up people and lay them all off as soon as the project ends. Some titles really cannibalize themselves because it's not a healthy place to be as a designer or developer. Companies looking to maintain the quality of their workforce are trying to make it more enticing to stay.
Ultimately, the idea of being a so-called rockstar developer who can pull countless all-nighters is starting to die out. Many people- my husband and myself included- want to work where work/life balance is respected. Maybe we put in crunch time and work passionately when necessary, but that can't be all of the time. You still need time to enjoy yourself- play games, go to an art gallery or a symphony and get more creative with your own work.
ACR:  Where do you think the industry is in terms of its expansion into new markets and demographics?
AR:  We've opened up games to new audiences, but we also have a better understanding of the diversity we already have. Women and minorities have always played games, but now we acknowledge it. The companies that are taking risks for these players are seeing the payoffs because they appeal to more people. It was always a self-fulfilling prophecy when it came to female-led games… marketing wouldn't put money into those games that had female leads so they didn't make money and it perpetuated a problem. It's slow going but I'm very hopeful that the bigger studios will see it as less of a risk. I played Assassins Creed: Syndicate this year and loved it because it felt like someone was listening and trying when they created Evie's character.
The other part of the puzzle is the diversity of who is actually making the games. If the entire team behind a game about a black female protagonist are white guys, it's going to come off as pandering. Even if they have the best of intentions, they don't bring their own experience into the character. So bringing more diverse voices into the industry helps the ideas flow.
ACR:  Are you encouraged by the diversity you see in the studios today?
AR:  Definitely in the last few years there's been a shift. I see it in studios where there's greater diversity among the 20-somethings. There's a real spotlight on it now. Everyone has seen what the lack of diversity and the problems with not fitting into 'studio culture' do to the industry.
ACR:  Did your minority status as a female game designer ever cause you to ponder whether or not you wanted to pursue this career?
AR:  There's a mentality among those of us who are in the minority to say, 'yes, it's hard but it's not impossible'. I never felt personally targeted as a woman, but then again I was always the exception to the rule going back to my days as a drummer in high school. When I graduated college in 2010, I was surrounded by white guys. I had grown used to being the odd girl. Now, I give more thought to the fact that being 'one of the cool girls' who games does harm and brings the gender down. (That status) elevates you to hang out with the cool guys but it doesn't help women in general.
ACR:  Where do you see yourself now within the context of this industry that keeps evolving and attracting new talent and new participants?
AR:  It's interesting because for a while, I felt like I was pretending to be a gamer. I was never very good at first person shooters because I didn't grow up playing them. They weren't familiar to me, so I didn't really consider myself much of a gamer. When I found my first job, a cinematics position at BioWare, I convinced myself that I could do it because I viewed it more as a movie maker than a game designer. As time went on, I realized I am a gamer just as much as anyone. Gaming isn't some exclusive club. You don't say you're a 'movier' because you like watching movies, and gaming should be the same way. The more people participate, interact and make games, the better games will be for it.
Check out more interviews at The Animation Career Review Interview Series.