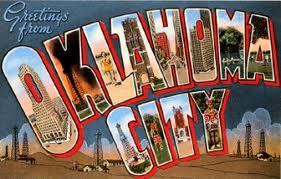 Due to a short supply, companies in Oklahoma City, Oklahoma maintain a vigorous economic demand for high tech professionals with app development expertise.  Mobile apps can be downloaded for getting directions, issuing sound effects, viewing photos, scanning search engines and many million more surprising functions.  There's even an app devoted exclusively to "Things Girls Wish Guys Knew."  Nowadays, more and more Oklahoma City techies pursue employment as mobile app developers.
Oklahoma City Schools and Training Programs for App Developers
Aspiring Oklahoma City app developers often acquire technical skills at accredited local schools of computer science.  Top local colleges with courses in programming and communications include DeVry University and Oklahoma State. 
At the same rate, tech professionals residing in Oklahoma City attain professional qualifications online.  Popular accredited online colleges with studies related to app development include American Intercontinental University, ECPI, Liberty University, Westwood College and Herzing University, to name a random few. 
Working as a Mobile App Developer in Oklahoma City, Oklahoma
Many different kinds of businesses in Oklahoma city hire app developers.  Some local experts team up with computer programming services like Berry Software, Morris Velo, Corethought, Dreamchasers and Homenet Solutions, for instance.  Other Oklahoma City app developers create digital products for local prepackaged software corporations such as Hurricane Technologies, Ellis Enterprises, Medical Office Solutions, Tah Software Systems or Point to Point. 
Data recently accumulated by the Bureau of Labor Statistics reveals that commercial businesses located in Oklahoma City currently employ roughly 1,040 full time app development experts.  They claim an individual average hourly wage of roughly $32.40 and a mean yearly income of about $67,410.  Independent freelancers who develop and publish their own apps experience mixed financial results.  The best (not to mention luckiest) app developers can earn up to a quarter million dollars for a single well-designed mobile app with genuine mass market appeal.  More realistically, independent app developers can easily make $50 an hour or more with freelance consulting gigs.
Skills of a Professional App Developer
App developers are typically highly organized, detail-oriented high tech professionals with superb project management skills.  Most are computer programmers familiar with coding and app building software like Magento, MySQL and Joomla!, among others.  App developers are also exceptionally skilled writers and researchers, handy with consumer electronics and fully competent with all computer operating systems.  Other essential knowledge needed for app development includes website construction, graphic design, server development and online social networking.