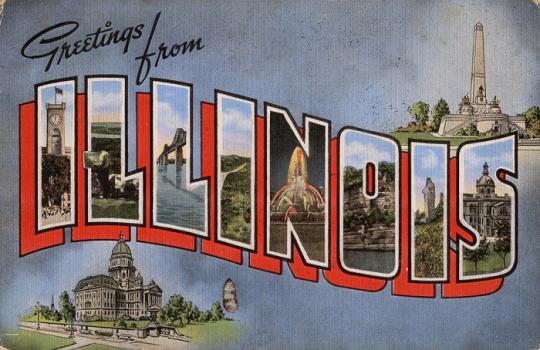 Illinois is home to the third largest city in the U.S.—Chicago. Like most cities a population of more than one million, Chicago is progressive and the arts and culture scene is rich. Major art museums such as The Art Institute of Chicago, the Museum of Contemporary Art, Mary and Leigh Block Museum of Art and Smart Museum of Art call the Chicago area home as well as hundreds of art galleries and world-renowned performance venues such as the Civic Opera House and the Symphony Center. The city is also home to a large collection of theaters (big and small) and a very active film scene. 
Chicago is a popular backdrop for films of all genres and budgets. Just a few movies that were filmed in the city include Transformers 3 and 4, Batman v Superman: Dawn of Justice, The Dark Knight, Bad Teacher, Colombiana, Contagion, Couples Retreat, Public Enemies, Sinister 2, Insugent, Divergent, Derailed, Oceans Twelve, Road to Perdition, I, Robot, The Fugitive, Superman: Man of Steel, and The Untouchables. The city is home to the 60-acre film studio Cinespace and a number of current and former television shows are/were shot entirely or partly here. ER, The Good Wife, Chicago Fire, Chicago PD, Empire, Mike and Molly, Shameless, Boss, Sirens, The Steve Harvey Show, Kitchen Crashers, Underemployed, and Mob Wives are just a few.  
All of these benefits make Chicago, Illinois an excellent place for aspiring visual effects artists to live and work. The schools in the next section make Illinois an even better place to learn. 
Illinois Visual Effects Schools
Illinois is home to 181 Title IV degree-granting institutions. A large number of these schools offer programs for artists and designers, and several standouts offer programs for aspiring visual effects artists. Just a few common majors include motion technology, animation, animation and visual effects, and interactive media with a concentration in visual effects. 
Scroll through the list below to review the state's best options for aspiring visual effects artists and what they have to offer.
Chicago
Columbia College - Degrees Offered: BFA Cinema Art + Science with a Concentration in Cinema Visual Effects 
DePaul University - Degrees Offered: BA, BS Animation; BA Computer Graphics and Motion Technology, MS Computer Graphics and Motion Technology
Illinois Institute of Art-Schaumburg - Degrees Offered: BFA Visual Effects & Motion Graphics
Tribeca Flashpoint Media Arts Academy - Degrees Offered: AAS Animation and Visual Effects
Peoria
Bradley University - Degrees Offered: BA, BS Interactive Media with a Concentration in Animation and Visual Effect
More Illinois Schools with Visual Effects related programs:  
Selected Campus Locations:
Selected Programs:
Animation Career Review Rankings:
Top 50 Nationally for Animation (#15) - 2020
Top 50 Nationally for Game Design (#23) - 2020
Top 40 Nationally for Illustration (#29) - 2020
Selected Campus Locations:
Animation Career Review Rankings:
Top 50 Nationally for Animation (#19) - 2020
Top 50 Nationally for Game Design (#17) - 2020
Top 5 in Florida for Graphic Design (#4) - 2020
Selected Campus Locations:
Employment and Salary Trends for Illinois Visual Effects Artists
Salaries for visual effects artists vary greatly by industry, geographic location, and more. For example, according to Indeed, the average salary for Chicago-based visual effects artists is $187,000 per year, while Philadelphia-based VFX artists average $150,000 per year. Head to Phoenix, Arizona and the average salary is $131,000 per year, according to indeed. In addition, the VFX industry is filled with freelance and other independent artists. As of March 25, 2015, independent artists averaged $70,620 per year. The Bureau of Labor Statistics does not report salary and employment information for visual effects artists. 
While the Chicago's film scene does its part to keep the state's filmmakers, animators, visual effects artists (VFX), directors, actors and producers busy, the city's numerous creative agencies, animation studios and game design companies play a part as well. Mega agencies such as J. Walter Thompson (JWT), Leo Burnett, DDB Chicago, Draft FCB, Ogilvy & Mather, Razorfish, and Y&R keep the state's most talented artists very busy and many of the following animation and game design studios routinely hire visual effects artist's fresh out of college:
Animagic Studios, Lake Zurich
Calabash Animation, Chicago
Daily Planet Productions, Chicago
High Voltage Software, Hoffman Estates
Iron Galaxy Studios, Chicago
Jellyvision, Chicago
Lunar Giant Studios, Mokena
NetherRealm Studios, Chicago
Radar Studios, Chicago
Rethink Studios, Chicago
As mentioned, Chicago is the largest city in Illinois. Besides Aurora, which has a population of just over 200,000, other "major" cities in the state have less than 150,000 residents. So, to find the best opportunities in the visual effects arena, it's best to begin your search in Chicago.
Awesome Animation Fact: Chairy Tale (1957) is a stop-motion animated short film that won the Academy Award for Best Short Film in 1958. The chair, which was animated by Evelyn Lambart, refuses to be sat upon, which forces a young man to perform a sort of dance with the chair. The musical accompaniment is by Ravi Shankar and Chatur Lal. This virtuoso film, which runs for around 12 minutes, is the result of a collaboration between Norman McLaren and Claude Jutra. –National Film Board (NFB), Canada