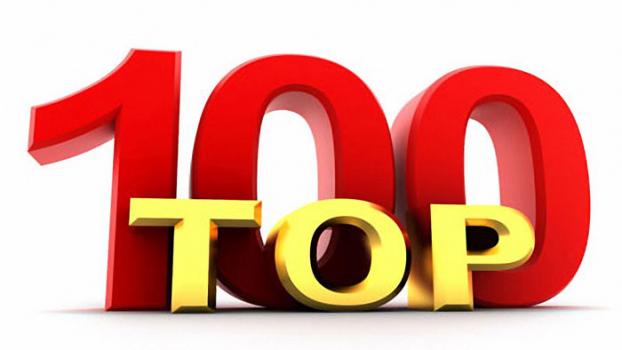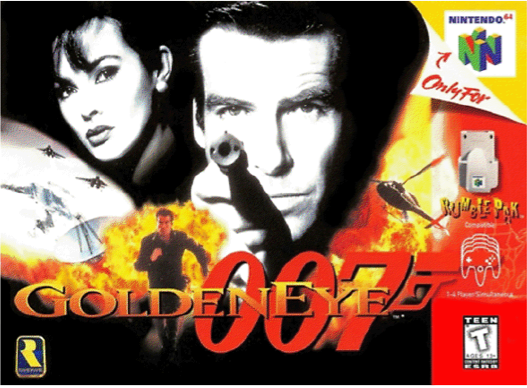 50. GoldenEye 007 (1997). While FPS titles took PC gamers by storm in earlier years, it wasn't until this James Bond shooter came out on the Nintendo 64 that console gaming caught the FPS bug, and man did it spread fast. It didn't matter what console you had; someone you knew had this game, and everyone remembers at least one summer break from school spent huddled around this game with three friends, making it arguably the most successful film-to-game adaptation of all time.
49. Final Fantasy VII (1997). Final Fantasy was already a huge series and Squaresoft was already a huge game company, but FFVII ensured that both would continue to be highly influential for the next decade in the new dimension of gaming. With an astounding budget of $45 million, FF7 contained industry changing 3D cinematics and pre-rendered backgrounds that helped make its characters even more influential and memorable, including possibly the most famous video game character death of all time.
48. Super Mario 64 (1996). Gamers want games, but they often don't know what they want. Game designers have to take the technology that's available at the time and figure out interesting and enjoyable ways to use preexisting game mechanics to make a memorable game. But when games made the transition to 3D nobody knew the new technology; nobody knew how 2D game mechanics would translate to 3D. Luckily, Shigeru Miyamoto saved the day yet again, and not only did he flawlessly show the world how to make a 3D platformer game, but he even added several new game mechanics that resulted in one of the best 3D games of all time. Almost two decades have passed and it's still one of the best examples of smooth gameplay and camera controls in a 3D world. 
47. Quake (1996). id Software caused the explosion of FPS games a few years earlier and wasn't about to let someone else take the throne from them. While others were busy trying to catch up with a single player game that could rival Doom (1993), id was already changing the industry by taking its focus off of single player and instead focusing on multiplayer deathmatch mode. Famous for its continuation of twitch gameplay, it was as fast paced as it was brutal, and suddenly weapons weren't just an item to help you beat a game. A wide variety of weapons and levels gave it great replayability, and when players got bored with it id Software even opened up the source code in 1998 for the community to mod on their own, which is actually how Team Fortress began before Valve hired its creators. Sure, Doom had multiplayer years before Quake did, but Quake is responsible for derailing most of the FPS industry into focusing mainly on multiplayer, which is still the genre's strongest pillar to this day. An honorable mention goes out to the first Half-Life (1998) game for having possibly the most successful mod community of all time.
46. Tony Hawk's Pro Skater (1999). Just when the excitement of 3D graphics was finally calming down, this game made us look at 3D objects in a whole new way. Suddenly prop models and simple buildings in a scene were things you could jump over or grind on, making a whole new style of level design for artists to explore. What was a fringe sport was supposed to be a fringe sport game, but it proved everyone wrong by letting players (and even real pro skaters) do what they couldn't do in real life. Besides selling dozens of millions of copies throughout its lengthy series of sequels across all consoles, it was also highly influential for bringing real songs into a non-music  game and showing the world that games could have awesome soundtracks too.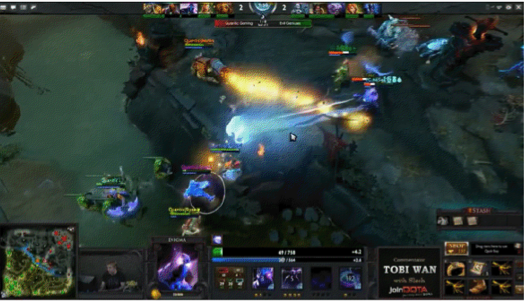 45. Defense of the Ancients (2003). Counter-Strike might be the most influential game mod of all time, but DotA was so popular that it spawned its own subgenre (MOBA, Action RTS, or just plain Dota; take your pick) decades after we all assumed every game genre had already been invented and damn near perfected already. This Warcraft III (2002) mod was based on the Aeon of Strife mod for StarCraft, but with a much larger and lengthier development lifeline it allowed DotA to slowly become more popular online than Warcraft III itself, with IceFrog estimating that DotA had over ten million players in 2009. Its success inspired the launch of Heroes of Newerth (2010) and also League of Legends (2009) at the hands of an old DotA developer, but then Valve stepped in and hired DotA's current developer, IceFrog, to help them make "Dota 2" (seen above). The sequel launched its private beta after holding The International tournament where they gave out millions of dollars to several professional DotA 1 teams competing inside a multiplayer game that wasn't even out yet, and Valve plans on holding the same tournament with the same out-of-pocket prizes again this year. Can't wait! Fun Fact: DotA even has its own Basshunter tribute song! "I feel you, man!"
44. Tamagotchi (1996). Super Mario Bros. is the second bestselling game of all time, with over 40 million copies sold over the years. Tamagotchis came out a decade after the Mario NES (Nintendo Entertainment System) game and have sold over 76 million units to date. The Tamagotchi blurred the boundaries of what a handheld game could be, and unlike the Game Boys that we would play in bed or on the bus to school, the Tamagotchi was the one game that never left our side, much to teachers' chagrin. It revolutionized the game industry with its digital pet concept, and Petz (1995), Neopets (1999), and Nintendogs (2005) all followed in its footsteps but never escaped its massive shadow. Fun Fact: the name Tamagotchi comes from the Japanese words tamago (egg) and uocchi (watch).
43. Call of Duty: Modern Warfare (2007). The Call of Duty series was around since 2004, but it wasn't until 2007 that the Modern Warfare subseries emerged and changed not only the COD series, but the industry as well. The series was so huge and in demand that two companies, Infinity Ward and Treyarch, had to take turns making the FPS war games that featured intensely scripted war events and controversial plotlines. As years passed, two more subseries, World at War and Black Ops, would be launched, and a few more game companies were needed to help launch a new game every year without fail despite controversial layoffs. To put their influence in perspective, nine out of the top 100 bestselling games of all time are Call of Duty games. Six are Modern Warfare games. Unsurprisingly, Call of Duty is the bestselling FPS series of all time.
42. StarCraft (1998). It's rare when one genre has an undisputed champion throughout the entire video game industry, but it would be hard to find people who didn't view StarCraft as the king of the RTS (Real Time Strategy) genre. This list isn't about games being good or bad though, and the reason StarCraft earned an influential spot is because it was a global phenomenon back in a day when most games weren't even released globally. It became so huge in South Korean culture that games started being streamed live on TV for the nation to watch, and for the first time ever a game had "professional" players who made millions of dollars from wealthy contracts.  Fun Fact: The game itself was so mathematically tight that a course on StarCraft strategy was taught at UC Berkeley in 2009.
41. Dune II: The Building of a Dynasty (1992). The 1989 Sega Mega Drive game Herzog Zwei – which is German for "Duke Two" – is credited by many as the first true RTS game, but Dune II was the one that made the genre explode when it released in 1992. In 1994 the Warcraft series expanded the genre even more, and a year later the Command and Conquer series would launch as its major competitor of the day, but it's Dune II that got gamers hooked on acquiring resources to construct buildings and creating an army of units to take an enemy base.
Pages