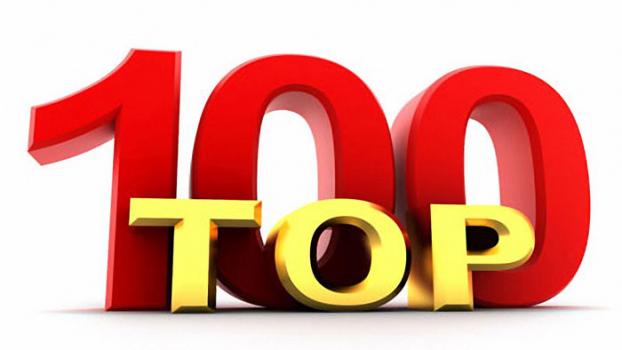 30. Metal Gear Solid (1998). Metal Gear on the NES practically invented the stealth combat game genre in 1987, and a decade later on the PlayStation it pretty much perfected the genre it created. I find it very fitting that after 1987 the genre became suspiciously quiet and hidden for a full decade before Solid Snake spoke into the radio once again and led the way for the likes of the ridiculously popular (and deservedly so) Deus Ex (2000) and huge series such as Hitman (2000), Splinter Cell (2002), and Assassin's Creed (2007). Oh, and, you know, it also helped start the Metal Gear Solid series that went on to become one of the most loved series in the entire history of the game industry. Honorable mentions go out to both Tenchu: Stealth Assassins (1998) and the Thief (1998) series.
29. Half-Life 2 (2004). In an era when FPS games only revolved around multiplayer, Valve dared to make the supreme single player story and game features that made Half-Life (1998) an instant classic, only to follow it up with a sequel that didn't just get "Game of the Year" awards; PC Gamer's community poll later even hailed it as "The best game ever made." Its photorealistic textures made it far ahead of its time with graphics that still hold up fine today despite having far less polygons. More importantly, its Havok physics engine has been used by over 150 video games, and its Gravity Gun revolutionized the game industry alongside destructible environments (shout out to Red Faction (2001)!) that offered a complexity that most games to this day still don't contain. Likewise, the real-time facial animation muscle system is only just now being rivaled by current generation games like L.A. Noire (2011) almost a decade later. Gaming is filled with impressive sequels Like Halo 2 and Diablo II, but Half-Life 2 might be the biggest improvement on an already fantastic game that the industry has ever seen. Tremendously honorable mention: Half-Life (1998), for revolutionizing the way stories were told in FPS games, showing huge leaps in AI (Artificial Intelligence), mastering the use of scripted scenes, and unleashing a mod community that greatly eclipsed Quake's earlier mods.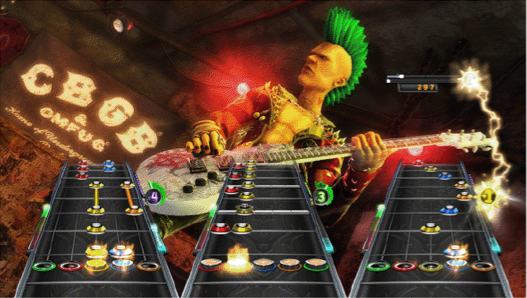 28. Guitar Hero (2005). Once games like PaRappa the Rapper (1996), Dance Dance Revolution (1998), and GuitarFreaks (1998) helped prepare the world for a musical genre of games, it was Guitar Hero (and its improved sequels) whose buttons got mashed all the way to the bank with over 56 million copies of various Guitar Hero games sold to date. A year before the Wii would start telling gamers that customized controllers were worth focusing on, Guitar Hero was the title that convinced a nation of college gamers that buying a plastic toy guitar was not only worth it, but really friggin' cool! It helped expand the scope of the experiences that gamers could get in their living rooms, and the PS2 game probably even helped skeptics get sold on the Wii itself. Rock Band (2007) and others would come not too longer after, but Guitar Hero was the game we all rocked out to first.
27. The Legend of Zelda: Ocarina of Time (1998). How long did it take Nintendo to perfect the third dimension of gaming after their famed test run with Super Mario 64? Just two years. Over two decades have passed and many gaming media outlets still consider Ocarina of Time to be the best game ever made, with it being one of the only games to ever score a perfect 10/10 review score on several of the largest gaming sites and magazines of its time. Aside from mastering dozens of gameplay mechanics, excelling at advanced combat weapons, playing one of the best game soundtracks of all time, adding revolutionary musical puzzles, expanding nonlinear gameplay's expectations, offering full day and night sequences that changed each of the famous low polygon 3D environments, it also leapfrogged over Chrono Trigger (1995) and showed that time itself can be a drastically influential game design tool. In a Deku nutshell, Hyrule was one of the first game worlds to ever feel real. Two decades later and Ocarina of Time is still a game design benchmark that all 3D action adventure games can and should be compared to in all facets, and in two more decades game gurus will no doubt still be crowning it as the best game ever made. I might still be one of them.
26. Grand Theft Auto III (2001). Who says racing games need racing? Rockstar Games brilliantly realized that a city racing game's strongest asset was the city itself, and in 2001 they made the most influential 3D sandbox game of all time. It redefined what gamers should expect from game studios in terms of both quality and quantity, and its elaborate and lengthy storyline was filled with almost as much voice acting as its violence, which made it the concerned media's biggest target since Mortal Kombat (1992). Many gamers claim that Grand Theft Auto: San Andreas (2004) perfected the GTA sandbox formula, and they might be right when you consider that all of the 3D sandbox games that we've seen since then mostly just improved on the genre's graphics and not much else. I just wish Shenmue (whose creator, Yu Suzuki, is credited as coming up with the term "Quick Time Event") could have been an equally successful and expansive 3D sandbox series after its Dreamcast debut in 1999.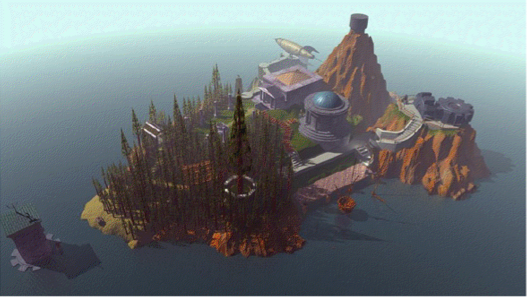 25. Myst (1993). I was really tempted to put Mystery House (1980) on this list, and while it's true that huge hits like The Secret of Monkey Island (1990) and Myst are standing on the shoulder of a giant Apple II adventure game that added graphics to the text adventure genre, it's that "point" aspect of the "point-and-click" adventure games that immortalized the genre forever. Myst is the point and click puzzle game that shook the world and showed everyone that games with 3D graphics could be enjoyable and challenging for gamers of all ages. What also makes Myst truly influential is that somehow in an era when violent video games were dominating the industry, a puzzle game rose to the top of the charts with 8 million units in sales and became the bestselling PC game of all time, which is a title it would hold onto until The Sims came along in 2000. Sadly, I don't think we'll ever see another trend-killing phenomenon on the scale that Myst changed things. Huge shout-outs go to The 7th Guest (1993), Toonstruck (1996), Grim Fandango (1998), Samorost (2003 Web game), Crimson Room (early Web game), WalkingInCircles (early Web game), Machinarium (2009), and the Sierra adventure classic, King's Quest (1984).
24. Alone in the Dark (1992). There are survival horror games dating back before Alone in the Dark, such as Splatterhouse (1988), Shiryou Sensen: War of the Dead (1987), Sweet Home (1989), and Project Firestart (1989), but Alone in the Dark struck at a time when personal computers were just starting to become a must-own device in America. A year before Doom made us jump out of our seats, this early 3D PC game had the entire industry afraid to turn the lights off in a way that would try to be replicated in the future by other famously scary games like Phantasmagoria (1995), Clock Tower (1995), Resident Evil (1996), Silent Hill (1999), System Shock 2 (1999), Fatal Frame (2001), Dead Space (2008), Amnesia: The Dark Descent (2010) and many more to come in the future. Eternal Darkness: Sanity's Requiem (2002) deserves a special shout-out for pushing the boundaries of how a video game could terrify and torment a gamer.
23. Counter-Strike (2000). It existed a year earlier as a Half-Life (1998) mod, but then Valve hired its creators and officially launched one of the most influential shooting games of all time. Each year sees larger than life big budget games come and go. The AAA titles surge in their "players currently online" tracker statistics and for months their shockwaves are felt. But then time passes, and they again become overcome by the "players online" stat of this immortal online FPS. While the Halo series sees frequent updates to reignite their fans' fervor, Counter-Strike fans continue to ditch the new games in its series and return to the first title and its maps' outdated graphics. Last but farthest from least, the famed 1.6 update version of Counter-Strike coincided with the release of Valve Corporation's Steam, which is, was, and probably always will be the largest digital distribution service for games on the planet. Without Counter-Strike helping its launch, we might not have the Netflix of gaming, which has helped countless other game companies release, sell, and market their games.

22. Neverwinter Nights (1991). This was the first popular MMORPG (Massively Multiplayer Online Role Playing Game) with 2D graphics, and it was so groundbreaking and successful that it ran from 1991 through 1997 on AOL. While the FPS genre was just about to boom, Neverwinter Nights (see two screenshots above) welcomed the RPG genre to online gaming years before other genres would catch up. It was also influential for using a player "ladder" ranking system which would later become common in many online RPGs. Fun Fact: AOL used to be called Quantum Link, or just Q-link, until it changed its name in 1991.
21. Ultima Online (1997). Before MMORPGs could actually sink in and become the most influential force in the future of the game industry, they first had to figure out how to become profitable. Island of Kesmai started charging players subscription fees in 2006 (Island of Kesmai actually brutally charged $6 per hour for 300 baud or $12 per hour for 1200 baud access rates) and a year later Ultima Online would popularize the industry changing concept. It was so influential that the industry didn't even know what to call the new game genre that was uniting gamers from every corner of the Internet, and the creator of Ultima Online, Richard Garriott, is credited as coining the term MMORPG (Massively Multiplayer Online Role Playing Game), which replaced the old genre term MUD (Multi-User Dungeon) that was no longer accurate. Back when we were just starting to get 3D games on PS1 and N64, Ultima Online already had an entire online world for gamers to explore.
Pages