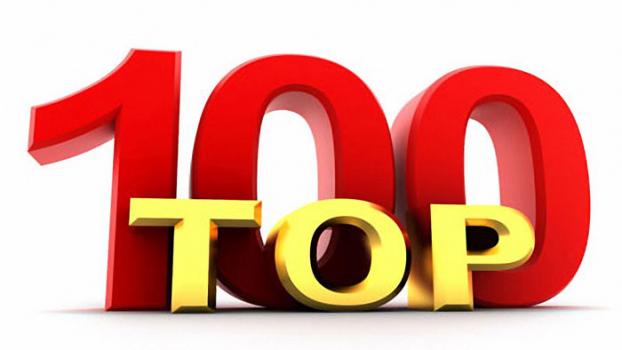 40. Double Dragon (1987). And thus began the golden age of the fighting genre that took over the entire game industry for five years. After Double Dragon set the genre's gameplay standards we saw a rapid release of other hits like Golden Axe (1989) and Final Fight (1989), which was originally meant to be a sequel to Street Fighter (1987) but was renamed before its release. River City Ransom (1989) followed and then SNK's Super Spy (1990) and Crossed Swords (1990) tossed first person combat into the mix without realizing they had stumbled onto an entirely new genre that was about to sweep the leg of the nation. Streets of Rage (1991) – and especially the timeless hit Streets of Rage 2 (1992) – helped the genre reach the peak of its golden years. Then, after a few more Teenage Mutant Ninja Turtles games, the genre explosion finally simmered down as FPS games hit the industry in a revolution that, honestly, we still haven't seen the end of yet.
39. Asteroids (1979). Everyone knows about Pong, right? And everyone knows about Asteroids, right? Okay, but did you know that Pong came out in 1972, and Asteroids came out in 1979, and that the creators of both of these games created Space Race (their follow up to Pong) back in 1973, and it featured gameplay that revolved around rocket ships that you flew through asteroid fields? This serves as a fantastic example of two issues that we've repeatedly seen in the fickle game industry over the years. The first is that it's worth doing what someone else did all over again if your game can do it better. It's not nefarious; it's both healthy and natural. The other key issue is that sometimes gamers aren't ready for some games, and if you give a 2004 gamer what they are going to really want in 2012, then it's as much of a blunder as it is genius. Asteroids is proof that rehashing old ideas is sometimes a good idea (just like it was for God of War), and that gamers will notice superior game design when compared to mediocre examples of the past . . . but sometimes it doesn't hurt to remind them of what they like!
38. Dance Dance Revolution (1998). I was tempted to list PaRappa the Rapper (1996) instead, but while PaRappa may have helped popularize the idea that games could revolve around music with its successful release in Japan, it was the DDR arcade game that changed the industry when it spread its songs across the globe and thrived in an era when arcades were supposed to be dying. By seeing gamers out in malls and bowling alleys busting a move (shout-out to Bubble Bobble (1986)!) it helped cultures of several countries adopt the musical gaming genre and bring it into their living rooms. Honorable mentions also go out to Dance Aerobics (1987), Vib-Ribbon (1999), Space Channel 5 (1999), Mad Maestro! (2001), Rez (2001), Donkey Konga (2003), Taiko: Drum Master (2004), Audiosurf (2008), and Just Dance (2009). Don't fret over the missing guitar frets in this blurb; Guitar Hero (2005) deserved its own spot higher in this list. Keep reading!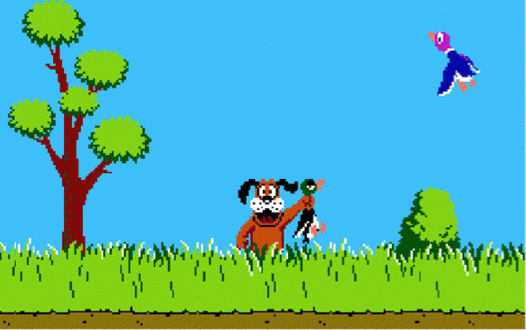 37. Duck Hunt (1984). Not many games on this list influenced actual game consoles, but sure enough, more than two decades before the Wii was released, Nintendo first introduced us to the idea of using controllers that interacted directly with the television screen based on the controller's position. I'd also like to think that this game is solely responsible for every unnatural dog death that happened after the year 1984. The NES Zapper light gun was huge in its day, but it's surprising when you realize that it was only compatible with 18 NES games, and even more surprising that Ralph Baer (look for that name to return later in this list) made the first video game console light gun game, Shooting Gallery, back in 1968 for the Magnavox Odyssey. Many gamers don't remember Shooting Gallery because its release got bungled with bad marketing and also the fact that many lighting tricks let players cheat. Fun Fact: You might be old enough to remember Shooting Gallery, but did you know that the Seeburg Ray-O-Lite was the first light gun game, and it was made back in 1936!
36. Tecmo Super Bowl (1991). This NFL game was so advanced for its time that it included entire seasons for gamers to battle through and team rosters years before it would become commonplace. This is the game that pretty much predicted the gigantic fan following that the Madden series would get in the future. Despite being so old and outdated, it still has a large fan following of its own who modifies the game each year with updated player rosters and stats, but real gamers know that Bo Jackson is notorious for being the most broken player in the original. Honorable mentions go out to Nintendo World Cup (1990), Double Dribble (1986), Blades of Steel (1987), NBA Jam (1993), NHL '94 (1993), FIFA International Soccer (1993), and of course Mike Tyson's Punch-Out!! (1987)!
35. Gauntlet (1985). While a game like Tecmo Super Bowl may have been insanely influential, it was still a no-brainer that one day sports games were really going to be big hits, and all they had to do was emulate the real thing. The other genres in the game industry didn't have the luxury of a simple path to follow, and Gauntlet had to lead much of the industry with bloody bread crumbs and show it that hack and slash games weren't that hard to make either. It did a fantastic job of snapping gamers out of their simple arcade game trance by popularizing the dungeon crawl genre that Diablo would later re-revolutionize much later in 1996. Gauntlet even had an early hand in influencing fighter games with its Battle Mode!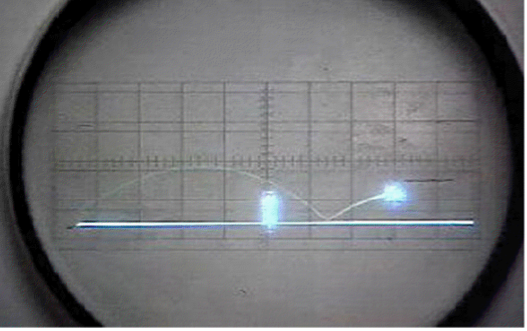 34. Tennis For Two (1958). William Higinbotham made this interactive computer game in 1958 for the Brookhaven National Laboratory's annual visitor's day. Funded by the U.S. Department of Energy, it used an analog computer and the vector display system of an oscilloscope to create a multiplayer game far more advanced than Ralph Baer's Tennis (1972) game for the Magnavox Odyssey. Fast forward to 1974 when Magnavox began winning or settling in several patent infringement lawsuits against big companies such as Atari, Coleco, Mattel, Seeburg, and Activision. About a decade after this string of suits began, Nintendo reversed the roles and sued Magnavox in efforts to invalidate Ralph Baer's patents by claiming that the first video game was Tennis For Two. The court ruled that this game didn't actually qualify as a video game since it did not use video signals, but let's be honest: when has the court system ever gotten anything right when it comes to gaming? As a result, Nintendo lost the suit and continued paying royalties.
33. Computer Space (1971). You know that whole coin operated arcade game era that helped create the entire game industry? Yeah, well this was the first commercially sold coin arcade game. Even though it was mostly a failure, its creators – Nolan Bushnell and Ted Dabney – would go on to make a little game called Pong six months later. Galaxy Game (1971) deserves an honorable mention for being an earlier coin operated arcade game (by two months) that wasn't commercially sold. Fun Fact: Galaxy Game was a newer version of Spacewar! (1962), one of the earliest known computer games.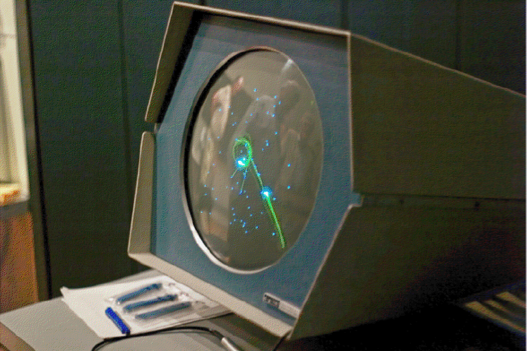 32. Spacewar! (1962). It took Steve Russell 200 hours across nearly six months at MIT to complete this two player space shooter's first version, and upon giving it to his Tech Model Railroad Club friends who, like him, were early budding hackers, he saw his game revised several times at the hands of other coders before the final version was completed in early 1962 with a gravity mechanic that was literally half a century ahead of its time when you consider that Half-Life 2 came out in 2004 and Super Mario Galaxy was released in 2007. Seventeen years before Asteroids (1979) took the world by storm, an arguably better version of it was born.
31. Wizardry: Proving Grounds of the Mad Overlord (1981). As the first of almost ten Wizardry games, this was one of the first RPGs to add a party system, which would become the backbone of the genre in the future. It also showed the world how to transfer the RPG genre beyond being all text based or played with a top down view. Equally influential is the fact that it established the turn based battle command system where players fight a still image of a monster, which would become essential in famous series of the future, such as The Bard's Tale (1985), Dragon Quest (1986), and Final Fantasy (1987). The June 1983 issue of Electronic Games magazine described Wizardry as "Without a doubt, the most popular fantasy adventure game for the Apple II at the present time." Honorable mention goes out to Temple of Apshai (1979) for being a game that time forgot even though it sold 30,000 copies in 1979, while Ultima (1981) sold 20,000 copies and the original Wizardry only sold 24,000 copies. Another honorable mention goes out to Bokosuka Wars (1983) for unknowingly laying the groundwork for tactical RPGs with its roaming phalanx party of characters guarding the king. Many years later, the tactics RPG formula would finally emerge with Fire Emblem: Shadow Dragon and the Blade of Light (1990).
Pages