Find a school near you....
Animation. Graphic Design. Game Art.
2017 Film Parody/Tribute Short Animation Contest Prize Recipients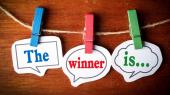 Our eighth seasonal contest received almost one hundred submissions with more creativity and high quality animations than we've ever seen before in a single season! Every season keeps getting better and better. Thanks to everyone who participated for making this contest a success. Below you will find our 2017 Film Parody/Tribute Short Animation Contest winners.

$1,000 First Prize: Kill Bill Tribute Animation by Beck Williams
$500 Second Prize: Disney's Lord of the Rings by Ryan Yanes
$200 Third Prize: The Secret Life of Humans by Rosie Summers
$100 Fourth Prize: The Deadpool Tribute by Akash DevaGuru
$100 Fifth Prize: Enter The Dragon: Tribute To Bruce Lee 3D Animation by Abhishek Sharma
$50 Sixth Prize: Blade Crawler - A Blade Runner Parody by Tentean George
$50 Seventh Prize: Rey and Kylo | Star Wars Tribute by Ian Howland
$50 Eighth Prize: Fast & Furious Film Tribute Flipbook Animation by Napper
$50 Ninth Prize: Star Wars: The Force Awakens (Alternate ending) by Kingsley Anyabuike
$50 Tenth Prize: STAR WARS: Alternate ending (Digital LEGO) by Galen Johnson
$100 Best Parody: DREED - A Dredd Parody by Chad Wadle
$100 Best Tribute: Spirited Away in the Magic of Miyazaki by Samuel Sullivan
$100 Most Artistic: Pride and Prejudice Tribute by Lizley
$100 Most Emotional: A Monsters, Inc. Tribute by Justa Tanate
$100 Best Stop Motion: "The Empire is still dumb" - LEGO Star Wars Stop-motion by Sebastian Dohnal

Prize recipients will be notified via email regarding payment details. Congrats to all!


View Past Contest Results:
Christmas 2014 Contest
Spring 2015 Contest
Summer 2015 Contest
Halloween 2015 Contest
Winter 2016 Contest
"Superhero" 2016 Contest
Celebrity 2016 Contest
Film Parody/Tribute 2017 Contest
Short Animation Contest
Find a school near you....