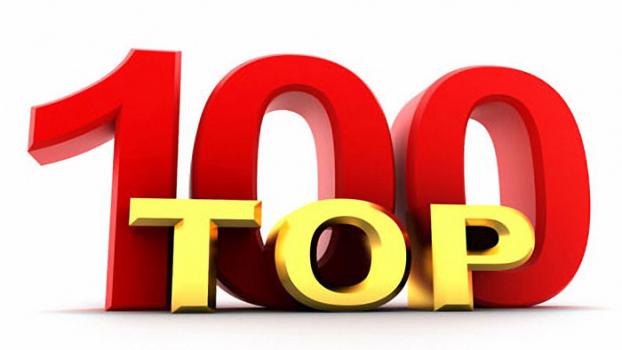 59. Jay Ward Productions - This American animation company was founded in 1949 by animator Jay Ward to create televised cartoon series. Using limited animation techniques, Jay's company created the famous The Rocky and Bullwinkle Show, Hoppity Hooper, and the animated George of the Jungle show. His company also designed the trademark characters Cap'n Crunch, King Vitamin, Quisp, and Quaker for the breakfast cereals, as well as commercials for those characters. And our parents told us that TV was corrupting and polluting our minds!
58. Skellington Productions - This company was a joint venture between Walt Disney Animation Studios, Tim Burton, and director Henry Selick, which is business code speak for Tim and Henry wanting to get a cut of the profits after their films rocked the box office, but only one of their two stop motion animation films did just that. The first is the still praised cult classic, The Nightmare Before Christmas, and on a $18 million dollar budget it raked in over $75 million in box office earnings. Their next and final film, James and the Giant Peach, went on to only make $28.9 million even though Roald Dahl's adaptation was greeted with great reviews from critics. Fun fact: Tim Burton went to the California Institute of the Arts for character animation and his first animated short, Stalk of the Celery Monster, can be seen  here on YouTube. Also, Henry Selick was one of his classmates, as was Pixar's John Lasseter!
57. Lucasfilm Animation - Founded in 2003, this animation studio was made with a specific purpose, and one that it absolutely nailed: Star Wars: The Clone Wars. With a branch in Singapore they first created the animated feature film that took even non Star Wars fans like myself by storm, and then they set out to make an animated TV series with the same characters and same intriguing art style. With that level of commitment, they brought an unprecedented production quality to the TV industry that no other CGI show has matched yet, with four seasons that each contain 22 spectacular episodes.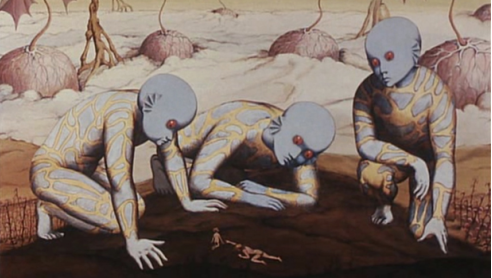 56. Jiří Trnka Studio - I'd like to say this guy is like a 1940s psychedelic Czech Jon Stewart with puppets and art skills, but honestly Jiri's quite an enigma, and it would take another week of research on him alone before I could unravel it all. He started making children's books, and then illustrated over 130 European pieces of literature, with many being Czech versions of the Brothers Grimm tales. He also created a puppet theater in 1936, and used it to make numerous adult shows that focused on pessimistic middle class satire and even an anti-Nazi film. Eventually French animator René Laloux met him, and I'm presuming Jiri had a major bromance with him after Laloux revealed that he used his art schooling to get a job in a psychiatric institute to perform animation experiments with interns. Two very odd dudes, but the result was the creation of the highly influential Fantastic Planet ( La Planète Sauvage), which was meant to be viewed as a 1973 statement on the Soviet occupation of Czechoslovakia, putting it in contention with Fritz the Cat (Bakshi Productions, 1972) and Cleopatra: Queen of Sex ( Mushi Productions, 1970) as possibly the world's first cult classic animated film. A decade later, Heavy Metal would be influenced by all of them, and was created with a 1,000 animator army.
55. Fuzzy Door Productions - This is Seth McFarlane's production company that is responsible for Family Guy, the animated show that rocked the television industry in ways few shows have, then disappeared do to a long list of conflicts, but then eventually came back from the grave to rock the TV industry once again. Their other shows American Dad! and The Cleveland Show have seen far less success, but Fuzzy Door Productions acquired the rights to recreate The Flintstones in 2013. It could either be a complete disaster, or set Seth McFarlane up for another decade of Animation Domination. Knowing Seth, it will probably be a little bit of both.
54. Rough Draft Studios - This California animation company has a sister studio (Rough Draft Korea) in Seoul, South Korea, and with the help from 20th Century Fox Television and Matt Groening's production company, The Curiosity Company, RDS is famous for creating the 100+ Futurama episodes and the four standalone Futurama movies. While it's debated if The Simpsons has overextended its welcome, Futurama remains mostly strong with a long list of excellent episodes and scenes that have spawned several online memes. RDS has also worked on The Simpsons Movie, Beavis and Butt-Head Do America, Drawn Together, The Looney Tunes Show, and has provided ink and paint animation assistance for classics like The Angry Beavers, Dexter's Laboratory, Hey Arnold!, Jackie Chan Adventures, Kim Possible, The Oblongs, Pinky and the Brain, and King of the Hill.
53. Topcraft - I know you're eager for Studio Ghibli, but be patient; we'll get to that eventually. This is the story of a tiny animation company that took on members that left some of the big name studios at the time, had management issues of its own, created animated classics for Rankin/Bass Productions, such as The Hobbit (1977), The Return of the King (1980), The Last Unicorn (1982), and The Flight of the Dragons (1982). Rankin/Bass became quite famous in the 1960s for its stop animation special, Rudolph the Red-Nosed Reindeer, but Topcraft would go on to an even higher tier of global success after a guy named Hayao Miyazaki helped them finally create Nausicaä of the Valley of the Wind, which led to the creation of Studio Ghibli. You can read a brief description of Topcraft's history here.
52. BONES - When your first project is an Escaflowne movie, and you follow it up with helping another studio create one of the most famous anime movies of all time – Cowboy Bebop: The Movie – then you know you can expect greatness from that company. After over a decade of holding Bones to high standards, they've rarely disappointed fans. Their RahXephon anime series proved it wasn't a Neon Genesis Evangelion knockoff and won the hearts of critics, only to see their next series, Wolf's Rain, perform even better with its reception. Ouran High School Host Club, Darker than Black, and Eureka Seven all have dedicated fan followings, but Bones true pinnacle is creating one of the most globally famous anime of all time: Full Metal Alchemist. A few years ago they also boldly launched a new anime series through the PlayStation Network, and despite me personally being disappointed with Xam'd: Lost Memories, I have to admit that Bones has their eyes on how to evolve industry; not adapt to it.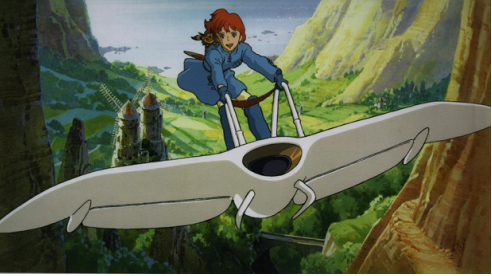 51. Studio Deen - Nevermind the fact that this studio formed by ex-Sunrise members that worked on the industry giant, Cowboy Bebop; this studio has its own high profile credits list that includes Fruits Basket, Read or Die, Star Ocean EX, Ranma ½, and the highly influential mech OVA episodes for Patlabor. Studio Gallop handed over the Rurouni Kenshin TV series to Studio Deen after the 66th episode, which also resulted in Deen creating the forever respected Rurouni Kenshin: Trust and Betrayal OVA (Rurouni Kenshin: Tsuiokuhen). If you got into anime before you hit your teens, it may have happened after you found one of their works at the local library on VHS or online through Morpheus or Kazaa. In recent years they've also found success with Jigoku Shōjo Mitsuganae, aka, Hell Girl.
50. Sony Pictures Imageworks - SPI was founded in 1992 as a VFX studio and won an Academy Award ten years later for their five minute CGI short film, The ChubbChubbs!. Four years later they completed their first full animation film project, Open Season, and since the foundation of its sister company Sony Pictures Animation, in 2003, Sony Pictures Imageworks has animated all of SPA's films, including Surf's Up and Cloudy with a Chance of Meatballs. On top of making Arnold Renderer – one of the most influential global illumination and shading software creations in the 3D industry in recent years – SPI has also been responsible for scenes in over 60 of the best special effects movies to date, including Anaconda, Godzilla, Big Fish, Harry Potter films, Spider-Man films, Narnia films, the Matrix sequels, Stuart Little, Watchmen, The Lord of the Rings movies, The Polar Express, and Beowulf.
Pages